Classroom climate is really important, and especially in the middle school.  We want our classes and our classrooms to feel safe, to feel engaging, respectful, welcoming, and supportive.   In order to highlight what it takes to create this type of environment, we want to discuss five ways to ruin your middle school classroom climate.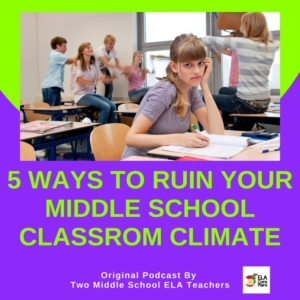 1.  The first way to ruin your middle school classroom climate is to nitpick your students. 
Another way of describing nitpicking is "fault finding".   Teachers do this when trying to catch their students doing something they shouldn't, or looking for any little thing to stay on them about.   Instead of staying on students about every little thing, we need to be mindful of watching for students doing the right things.  We certainly have to address issues in the classroom, and there are times when we need to say something to a student for doing something that is distracting to others, but we can say or do something in a way that doesn't come across as "nitpicky".  Imagine a kid who is tapping his pencil all the time and about to drive you crazy.  If you look at him every five minutes and say, "Stop tapping your pencil!" he may end up doing it more and more.  Imagine instead of telling him to stop, you say, "Put that pencil in your desk for now."  This way, his behavior is redirected and changed completely. Later on, when you can talk one on one with that kid, say, "Thanks for putting that pencil up when I asked you to."
At other times, just ignore it. You'll be surprised at how this will create such a better atmosphere than staying on kids about small things.  We really have to pick our battles.  We don't want to let the small stuff become the only stuff.  Sometimes, teachers too easily make small things their focus.  If a kid doesn't have a pencil, just give him/her one.  Don't make a big deal out things like this that can be easily solved.
2.  The second way to ruin your middle school classroom climate is to handle problems in front of your entire class.
We all know that handling a problem with a student in front of an audience does not work. We don't want to call a student out in front of everyone because that student may retaliate. Then, you may retaliate, and before you know it, you've got a battle going on in front of everyone. There are better ways to handle a student who is causing problems.  For example, if there's a kid who's talking when he/she shouldn't be, I might just look at that student, put my finger to my lips with my teacher-look that means business.  I might walk over there and just simply put my hand on the desk, and that takes care of it.   We also don't want to use sarcasm. Sarcasm makes kids shut down. It makes them feel stupid.
3.  The third way to ruin your middle school classroom climate is to keep your class boring and "stiff". 
If you want to ruin your middle school classroom climate, keep it boring. Do the same thing day in day out for the entire school year. That's going to create a place where your students don't want to be. For your classroom to be positive, you want them to be there, to look forward to coming to your room. Think about times when you can add games so that the kids get excited and pay better attention. Some of the ones online right now that are so fun for the kids include Gimkit, quizzizz, Blooket.  If you haven't yet, check those out.  You can get a free account for those.
Learning platforms like Nearpod, where you can make sure all of your students are engaged are also great for your classroom climate. Nearpod allows you to see all of your students' responses in real time and allows you to incorporate fun activities in a lesson.  If you've never tried using Nearpod, I encourage you to do so.  It is a game changer when it comes to teaching and keeping students engaged!
Other ways to avoid monotony in your classroom are to incorporate storytelling into your lessons, let students work with partners and in groups, use videos, bring in humor every single day. Take the time for a few minutes to focus on a funny thing that a you or a kid did or said. And just for a few minutes in that instant, you've made your classroom happy. You've brought that little bit of joy in there, and it makes your kids want to be in your classroom.  Just make sure to change things up from time to time.
Watch out for your class feeling too "stiff" as well.  Sometimes we feel that in order to have good classroom management, our students have to be silent, sitting face forward with their hands folded nicely on the desk.  We sometimes need to lighten the mood in the room, not too much, because that can lead to a chaotic environment, but just enough so that it is a fun, positive place for students to learn.   Little things like giving a student a high five when he/she does something good, or having another student give that high five. Or if a kid sneezes, say bless you.  Even that simple little gesture can lighten the climate of a classroom.
4.  The fourth way to ruin your middle school classroom climate is to yell at your students and give them commands without explanations. 
Yelling is not effective in today's classroom.   It's just not worth it.  Use a firm "I mean business voice" when you need to, but don't yell.  Also, when we give commands to our students, it is so helpful to tell them why we want them to do what we're asking them to do.   You will be so surprised at how much better a student will respond to what you need them to do if you give an explanation for it.  For example, I could say "I need you to be quiet."   Or I could say, "I need you to be quiet because we're about to read. And when I read, if somebody is talking, I can't concentrate, and I keep rereading the first sentence over and over again."  I promise that students will respond better when they have that explanation.
Another tip I'm going to throw in here, because I've found it really works, is to change up the way you ask students to be quiet or to sit down or whatever you need them to do.  Students hear the same thing all day long from all of their teacher.  They constantly hear "Be quiet."  "Stop talking."  They hear these so much that they sometimes stop paying attention to them.  If you can change the way that you say those things, they will listen and respond better.  Here's an example. Instead of saying, "Stop talking," try this. "If you're talking… stop." Then follow it up with your reason behind it.  "If you're standing, I need you to have a seat because I'm about to give you some instructions, and I want all eyes on me."   You're going to be amazed at the difference that will make.
5.  The fifth way to ruin your middle school classroom climate is to show no interest in who your students are as people.  
The last, and probably the main way that you can ruin your middle school classroom environment is to show no interest in who your students are as people. It's important to become interested in things your students are interested in.  It's important  for your students to know that you are an adult that they can come to if they have a problem.
Set up T-Mail in Your Classroom
One simple thing you can do is to set up a T mail (not e-mail) station in your classroom.  T-mail stands for Teacher Mail.  Make a space in your classroom for a  basket or a box where your students can drop you a note.  Just make sure other students don't have access to it.  You could also do this digitally using a Google Form or Google Doc once a week or month, or however often you wanted to.   Take the time to read these notes and respond to them. So many kids are just so shy and timid that they're never going to say anything to you, especially in front of anybody. But when you have that place set up… that safe place, they're going to feel comfortable in even asking a question about content. This also provides a way that they can talk to you about some of the students who may be bothering them in your middle school class; something you haven't noticed.  Sometimes students need our help, and they're not sure how to get it. T-mail provides an easy and non-threatening way.   This will do wonders for your classroom climate because it will show your students that you see them as people, and in turn, they will see you as a person…one who cares!
Making speaking personally to each student intentional
Another thing you can do is to  get a calendar, and each school day on that calendar for that month, write a different student's name. On that day, that name will remind you to go speak to that kid personally and ask them something about his/her life, something like, "How'd you do in your game last night?" or "Do you have any brothers and sisters?"
Or you can do something called the 10 to 2 strategy.  This is especially beneficial for any student that you're having trouble with in class.  Here's how it works.   For 10 days, spend two minutes with that student one on one, asking him/her questions or talking to him/her about things that he/she is interested in. That's why it's called 10 to 2.  Ten days, two minutes. You will notice a tremendous difference in that student's attitude and behavior because he/she is going to realize that you really care about them as a person.
Start a "Secret Shout-Out Program"
And one last thing you can do is to have a year-long "Secret Shout-Out" program with your students. This is somewhat like Secret Santa. Each student is assigned to another student in the class, and they are responsible for providing secret shout outs throughout the month or throughout the nine weeks. Provide notecards to students and tell them to write compliments or quotes to inspire their secret shout out person.   They turn these cards into you, and you will deliver those, keeping everything anonymous. Stress that students should keep it a secret. This is really a wonderful thing to do to build your classroom climate because kids love getting these, and they enjoy making cards for others as well. They will always look forward to receiving their personal "shout out"!
https://elacoreplans.com/wp-content/uploads/2014/07/ela-core-plans-logo-tag-900.png
0
0
Shannon Temple
https://elacoreplans.com/wp-content/uploads/2014/07/ela-core-plans-logo-tag-900.png
Shannon Temple
2022-07-18 05:00:34
2023-02-25 19:31:12
5 Ways to Ruin Your Middle School Classroom Climate