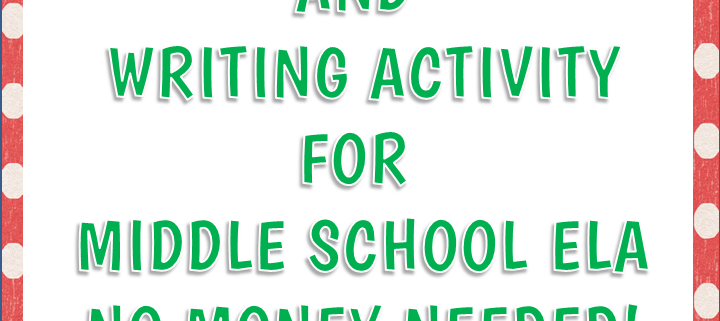 Middle School ELA Christmas Writing Activity
I wanted to share my favorite middle school ELA Christmas writing activity that I do each year a couple of days before our Christmas break.   We  play a gift exchange game, but students do not have to spend any money.   The best part is that students have a ton of fun, and I tie in some writing instruction as well!
So, here's how this middle school ELA Christmas writing activity works.  Students bring in something from home – nothing new and something that they can give away. They can bring it in wrapped or wrap it at school with wrapping paper provided by me. The number one rule is that they must not tell anyone what their gift is, not even their BFF!  It can be a gag gift but must be appropriate for school. I've had students bring in everything from a potato to a cute pencil pouch.  Some students get really creative.  One girl brought in a can of beans with a note that said "homemade bubble bath".  I usually spend some time giving examples of what is and what is not appropriate.
Once students have brought in their gifts, we complete the first writing assignment.  I explain to students that we will be playing a gift exchange game and that someone in the class will choose their gift.  The thing is, however, students will not be able to open the gifts that they choose.  Instead, they will read the paragraph out loud that describes the gift.  A day or two before the game, students must write a paragraph describing the gift in an interesting way.  They cannot use the name of the gift or anything that would be a "dead give away".  Instead, they must describe what someone could do with this gift in an imaginative, creative way.  For example, if a student brings in a potato, in the paragraph, I could not write, "This is something you bake or boil and eat."  I could not use the word potato.  Instead, I would have to describe an imaginative use for it, like, "This will be a perfect paper weight.  If you are often bothered by your papers flying all over the place when your windows are open, then this is the ideal gift for you.  It is just the right size, weight, and color to nicely hold your papers in place.  Also, this gift can be used as a pencil holder.  It can hold at least ten or twelve pencils or pens nicely."
Once all of the wrapped gifts are in class and all of the paragraphs are written, we are ready to play the game.  This is perfect for the day before the break!  Each wrapped gift has the paragraph with it.  I pull Popsicle sticks with students' names on them to decide the order in which students choose gifts.  Each student chooses a gift and reads the paragraph out loud.  No one can open a gift until everyone has one.  Students can "steal" a gift from another student when it is their turn or choose from the pile.  Of course, the only thing they have to go on is the paragraph, but if a paragraph does a good job describing some wonderful use of the gift, people will want to "steal"it.  I allow a gift to be "stolen" three times before it is "frozen".
Once all students have a gift, they open them one at a time so we can all oooh and ahhhh or laugh.  Then, it is time for our final writing assignment.   Students must write a thank you note to the person who gave the gift thanking them for it and telling them how they will use it.  Students must be creative with their thank you notes and be grateful no matter what it is that they received.

This middle school ELA Christmas writing activity is loads of fun, adds a festive atmosphere to your classroom, and includes two creative writing assignments!  Click here for the free download of the directions, a rubric, and a cute handout for kids to use to write their paragraph.  Merry Christmas!
P.S.  I always bring in a few extra "gifts" for those students who may forget one.  Remember, anything can be a gift, even things like paperclips or erasers in your teacher desk drawer!
Looking for more ELA based Christmas lessons?  Check out our fun and meaningful activity that focuses on analyzing figurative language in the song "Mr. Grinch"!
https://elacoreplans.com/wp-content/uploads/2015/12/Christmas-Gift-Exchange-Game.png
960
720
Shannon Temple
https://elacoreplans.com/wp-content/uploads/2014/07/ela-core-plans-logo-tag-900.png
Shannon Temple
2015-12-03 09:02:34
2023-02-25 19:31:15
Middle School ELA Christmas Writing Activity