Literacy Centers in Middle School ELA
If you had asked me ten years ago if I would ever use literacy centers in middle school ELA, I would have replied, "I teach middle school, not kindergarten."  Today, however, literacy centers in middle school ELA are all the craze, so I wanted to figure out if there was a way I could use them.
I started some online research on how teachers incorporate literacy centers in middle school ELA classrooms.  I found that many teachers  rely on centers during guided reading.  While the teacher works with small groups, the other students are using centers.  Centers are also perfect for individuals or small groups who need to be pulled by the teacher for writing instruction.  In addition, I found out that a lot of teachers simply use centers once a week or month so that students can work together and have time for hands-on, student-centered learning.  Of course, centers are perfect for early finishers too.
I was convinced that adding centers to my teaching repertoire would be a good idea, but I didn't want activities that just provided busy work or ones that were simply fun.  I wanted centers that would challenge my students and make them better readers and writers.  After much planning, revising, and creating, I had the following tenliteracy centers in middle school ELA to try out in my room.  We spent five days rotating through them, and they were a huge hit with my students!    You can click the first one to download the complete center.
Fun with Fables
Informational Text Time
Quote Analysis
Extreme Makeover Writing Edition
Strong Verb Paragraphs
Argue Your Point
Vocabulary Memory
Would You Rather Expository Writing
Creative Writing
While researching the use of centers for my classroom, I came across several ideas to house the centers.  One teacher keeps hers in bags which hang neatly in her room.  I liked the portable center plan, but I decided to house mine in three ring binders.  This way, students can grab a binder and take it to their desk or designated area to work.  All ten binders fit nicely in a crate.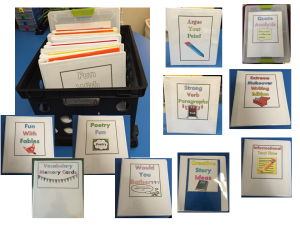 As for grading the work, I decided to have students keep a "Center Portfolio".  Each student has a three-pronged folder, and each time work from a center is complete, it goes inside this folder.  I created a checklist to be placed at the front of the folder, and students check off each center as they go.  Once a work sample is complete from ten centers, the folder is turned in for a grade.  I developed an easy checklist to help me grade the work quickly and efficiently.
I plan to add to these centers as time goes on.  The other day, I saw one of those Great American Mail Race letters in my workroom box, and I thought to myself, "This would make a great center!"  Students could respond to letters and participate in the race themselves.  I think this would make a great center because it provides an authentic writing experience.
I'm glad I've added these centers to my classroom.  Now that I have them created and inside the notebooks, I will have them for life!   I've even considered using them for emergency substitute work. One thing is for sure, my middle schoolers love to work cooperatively, and they definitely learn from one another. Centers allow this to happen!
You can create your own literacy centers for middle school ELA just by thinking of important lessons and developing fun activities to engage and challenge your students.  If you're interested in the centers we have created, you can purchase them here.  Everything is ready for you to print and place in binders, including the checklists for grading them.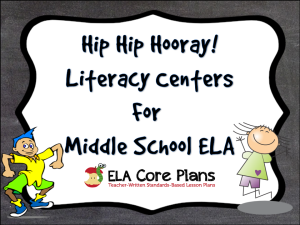 Happy Teaching!
https://elacoreplans.com/wp-content/uploads/2015/12/lit-center-pictures-of-all-notebooks-and-crate1.png
720
960
Shannon Temple
https://elacoreplans.com/wp-content/uploads/2014/07/ela-core-plans-logo-tag-900.png
Shannon Temple
2015-12-27 15:50:40
2023-02-25 19:31:15
Literacy Centers in Middle School ELA