Top Five Reasons To Use Interactive Notebooks in Your Middle School ELA Class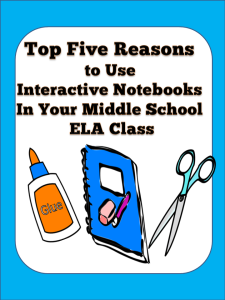 Interactive Notebooks in middle school ELA Classrooms are wonderful!  Check out these top reasons to start using them in your classroom today.
Students stay busy with interactive notebooking. Students can forget going to sleep or even daydreaming.  With interactive notebooks, students are actively engaged during each lesson!
Students enjoy it. Most students take pride in things that they are able to create, and they have fun making their notebooks a prized possession.  We all know that a little fun makes learning easier.
Notebooking provides "built-in" brain breaks. Brain breaks are the new craze.  For example, these days, teachers find themselves stopping in the middle of class and doing ten jumping jacks to give everyone's brain a rest.  Well, with interactive notebooks, the cutting and gluing provides built in mini breaks.  And don't worry; the cutting and gluing does not take up too much class time.
It will help you as the teacher stay organized! I teach four classes, and I have four notebooks.  Everything that my students do in class, I do along with them.  So, if I forget where we are in our lesson or what we did the day before, I simply look at my notebook.  If my first period and third period are in different spots, my notebooks easily let me know.  It's wonderful!
Everything that you do for the year is in one place, and it makes review easy. We use five subject notebooks and divide our notebooks into 5 sections.  Take a look at how we organize them below.
Grammar Gremlins – We cover one pesky writing problem a week (like it's vs. its) and call them gremlins.  The notebooking is working perfectly for these lessons and foldables, and I LOVE that the kids have all of the lessons to look back at when needed.  It's like their own little handbook.  After every five "gremlins", we give a review test.  This spiraling approach is so important when teaching problems to overcome in writing.  Take a look at the picture below to see some of the foldables we create in the Grammar Gremlin section of our notebooks.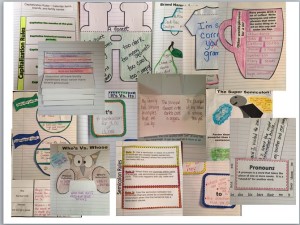 Literature – In this section, we glue handouts on literary techniques and any handouts that we complete within our novel units or short story lessons.
Writing – This is where students have glued their four square prewriting guide, types of grabbers, and other lists and lessons that they can refer to when writing.
Roots/Affixes – After we finish our 26 week curriculum with Grammar Gremlins, we begin our weekly study of roots and affixes.  We use this section of the notebook to make foldables and cutouts for our six weeks of study.
Miscellaneous – This section is left blank for any other activity we may do that does not fit under the other four categories.
The following is what I have found works and helps when using interactive notebooking in my ELA class.
Set up stations with glue and scissors.  I bought pencil boxes and glued them to every other desk.  Inside, I put two pairs of scissors, colored pencils, a pencil sharpener, and highlighters.  I have a shelf in the middle of each row of desks with baskets of glue.  Use the bottled glue, not the sticks or tape.
Tell the students to put dots of glue, not strings of it.  I once read another teacher's blog that said "Do not toaster strudel your glue."  I now say that too.  All they need to do is put a dot of glue in each corner.  This takes practice, and I repeat it every time we work.
Keep a notebook yourself for each of your classes.  I have four classes, so I bought four different colored notebooks and labeled them first period, second period, third, and fourth.  This helps in so many ways.  First, as we cut, glue, and fold, I do my own.  The modeling really helps some students.
 Glue in, complete, and write everything that the students do.  This is an awesome way to know how far you got with each class.  If I am not sure how far I got in second period, I can just look at my notebook to see.  Also, it's easy to let a student who was absent copy something from your notebook.  As my students are cutting and gluing, so am I.  Once I'm done, I announce, "I'm finished cutting and gluing, so you should be close to finishing too."  This seems to help the slow pokes hurry it up.
https://elacoreplans.com/wp-content/uploads/2015/09/top-five-reasons-to-use-interactive-notebooks-blog-cover1.png
960
720
Shannon Temple
https://elacoreplans.com/wp-content/uploads/2014/07/ela-core-plans-logo-tag-900.png
Shannon Temple
2015-09-20 12:02:07
2023-02-25 19:31:19
Top Five Reasons To Use Interactive Notebooks in Your Middle School ELA Class