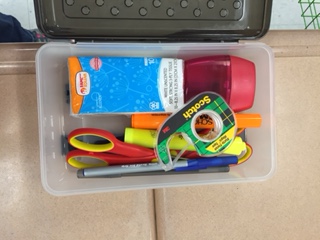 How to Keep Students From Getting Out of Their Seats! Classroom Management Tip for Middle School
The key to eliminating "out of seatness"? "Stations"! These "stations" limit the need of students to get up and down over and over for supplies. First, take a look at this picture – it's a "bird's eye" so you can see a portion of all three long rows. Yep! I really use rows….in 2015! But, there is a method to my madness! I find that if I place my kiddos in groups, they are too "social" when I need their undivided attention. In my rows, I have kids placed next to a partner they can turn to when I need them to discuss something!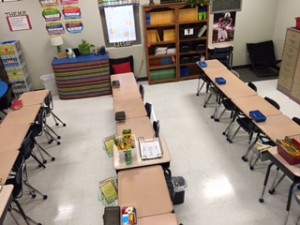 If you look at the middle row, in the center is a supply station. It's simply a desk turned vertically.  What's at a station?
colored pencils/markers

a paper tray

a book basket, hand sanitizer

a trash can
My book baskets right now are holding an AMAZING novel! The Man Who Loved Clowns by June Rae Wood! If you have never read it, you HAVE to put it on your "to read list" today! You and your students will be SOOOOO happy you did! It is full of delightful characters that make an impact that your students will always remember. Here's a free sample of the novel unit I use while reading it.
I also use supply boxes. The boxes are the plastic pencil boxes you can find at Wal-Mart and Target for a dollar or so. I glue them with hot glue in between two desks. Two kids share what's inside.
Here is a close up of a supply station and a supply box.
The supply box contains
pocket sized tissues

a hand-held pencil sharpener

highlighters

scissors

pencils (why fight that battle, huh??)

tape

pens
Many of these supplies are used nearly daily for our interactive notebooks. When these things are within a student's reach, valuable time is saved each day. And, we all know every minute is a treasure!
See those cute little paper binoculars in the paper tray?? That's a handout ready for the kids to use Monday! It will go it their Grammar Gremlin section of their interactive notebook and reinforce the pesky to vs. too. Here is a copy of this handout for you if you'd like to use it too! And, if you like that, here is a sample of the entire Grammar Gremlins book.
https://elacoreplans.com/wp-content/uploads/2015/09/box-picture.jpg
240
320
Tammy Sutherland
https://elacoreplans.com/wp-content/uploads/2014/07/ela-core-plans-logo-tag-900.png
Tammy Sutherland
2015-09-20 13:16:18
2023-02-25 19:31:18
How to Keep Students From Getting Out of Their Seats! Classroom Management Tip for Middle School