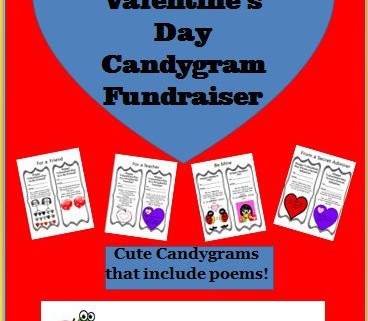 Valentine's Day Candy Gram Fundraiser
If you are looking for a way to make money for your school, you should definitely try a Valentine's Day candy gram fundraiser! We make a great profit each year at our school with our cute and simple candy grams.  Each one has a poem, and students can choose to send them to their friends, teachers, or secret crush.  A week before Valentine's Day, we provide an order form to students. Different options are provided for each candy gram (two teacher poems, two friend poems, two secret admirer poems, and two be mine poems).  We also have a generic one that just says Happy Valentine's Day.  Each candy gram comes with candy – Blow Pop, Air Head, Hershey Kiss.  We charge $1.00 for each one, but you could charge less and still make money from your Valentine's Day candy gram fundraiser.
At our school, each homeroom teacher is in charge of taking orders.  We make several posters to hang around the school for advertisement and to generate excitement.  We have an hour at the end of the day which we call our Accelerated Reading hour.  On Valentine's Day or the closest school day, we will have students deliver the Candy grams during this AR period.  You may choose to have them delivered during homeroom, last period, lunch period, or whenever suits.
You will love this Valentine's Day candy gram fundraiser, and you can use it every year!  Download our complete FREE packet here!  Enjoy!
https://elacoreplans.com/wp-content/uploads/2016/01/valentines-day-candygram-cover.jpg
495
368
Shannon Temple
https://elacoreplans.com/wp-content/uploads/2014/07/ela-core-plans-logo-tag-900.png
Shannon Temple
2016-02-01 18:13:20
2023-02-25 19:31:14
Valentine's Day Candy Gram Fundraiser