Over  the years, I've tried so many different ways to teach students how to write topic sentences. And, I've definitely learned that if I assume students know how to write one, I end up kicking myself for not starting with the basics!   This year, something popped in my head that seemed to help my students, so I wanted to share it.
My magic idea?  Umbrellas!
I was trying to find a way to teach students how to write a topic sentences for an introduction and topic sentences for each body paragraph in an argumentative essay when I stumbled upon the idea.  I drew a large umbrella around my topic sentence in my introduction.  I explained that everything in the paper would have to fit under this umbrella.  For the three body paragraphs, I drew smaller umbrellas.  I told students that while each body paragraph had its own topic sentence (umbrella), these three topic sentences still had to fit under the larger umbrella – topic sentence for the entire essay.  The illustration explains it better!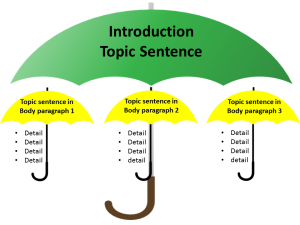 This is basically what I said to my students to explain:  The topic sentence in the introduction is like an umbrella, a big huge one that lots of people could fit under.  You see, everything in the entire paper must fit under this big umbrella and that's why you must choose a good one. Then, in each of the three body paragraphs, there is also a topic sentence- represented by smaller umbrellas.  Only the information in that paragraph must fit under it.  However, this umbrella still fits under the big one in the introduction.
If my big umbrella is something like "The Burmese python is a beautiful creature" then all of my small umbrellas will have to be something about what makes the snakes beautiful.  This would be hard to do.  Under my first small umbrella, I might write the following topic sentence:  The patterns on the snakes body make the Burmese python beautiful.  This works well as it fits under my big umbrella.  However, I can't think of anything else to say under my next two umbrellas.  There is just no way I can write that many paragrraphs about why this snake is beautiful.  This means one thing, my topic sentence under my big umbrella is not a good one.  I need something else.  What if I changed it to the following: The Burmese python is an interesting creature.?  Now, i'ts much easier to come up with my smaller topic sentences for the body of my paper.  I can still use the umbrella about the snake being beautiful, but under my next umbrella, I can write the following topic sentence: The Burmese python has interesting eating habits.   Under the last umbrella, I could write the following topic sentence: The Burmese python kills its prey in a unique way.
So far, this illustration I used to teach students how to write topic sentences has been wonderful!  I even brought in a big umbrella and a smaller one as an illustration.  My next idea is to look for the "umbrellas" in informational texts.  Hopefully this will help us with identifying main ideas too.
You can print all of the illustrations above by clicking here.
Happy Teaching!
Shannon
https://elacoreplans.com/wp-content/uploads/2016/01/topic-sentence-umbrellas.png
720
960
Shannon Temple
https://elacoreplans.com/wp-content/uploads/2014/07/ela-core-plans-logo-tag-900.png
Shannon Temple
2016-01-20 11:06:15
2023-02-25 19:31:14
Teach Students How to Write Topic Sentences